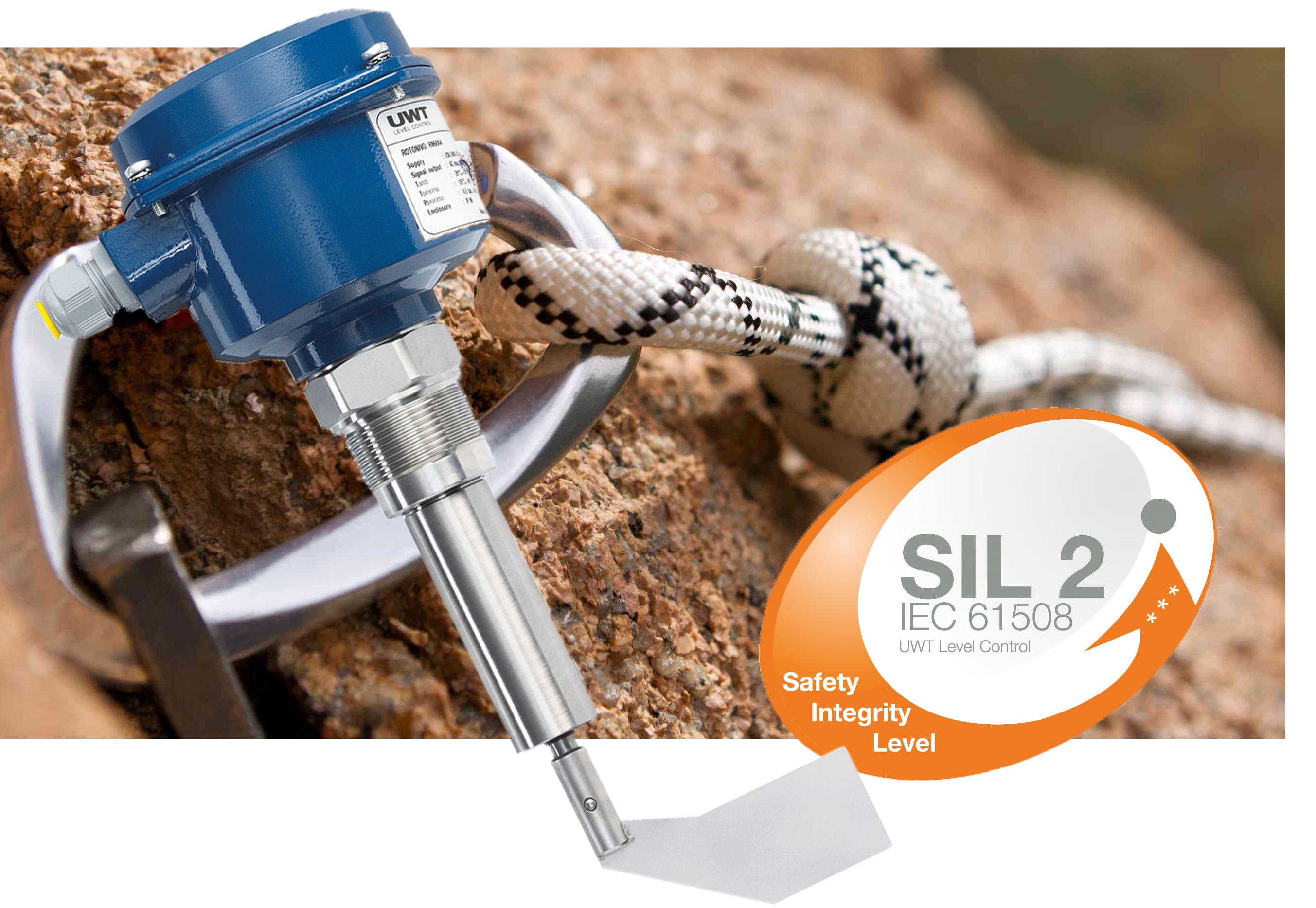 First rotating paddle limit switch with SIL2 worldwide
The terms 'functional safety' and 'safety integrity level (SIL)' have occurred more frequently since the publication of the international standard IEC 61508/IEC61511. Particularly in systems with hazard-causing processes, such as in chemical plants, the consideration of functional safety has become indispensable. On this basis safety-related practices, design principles and error considerations must be met in order to minimize the risk of a dangerous failure.
Rotary Paddle Level Switch for overfill and dry run protection
The UWT engineers focused on this topic and redesigned the rotating paddle switch Rotonivo® RN 6000 series according to the normative requirements of functional safety to ensure safety functions in a risk mitigation in accordance with SIL2. Typical safety functions are overfill and dry run protection.
Depending on the requirements, the Rotonivo® rotary paddle switch is used as a full, demand or empty detector in storage silos or process vessels and is suitable for use in almost all solids. With its simple electromechanical measuring principle it can also be adapted for extreme process conditions. A motor driven shaft causes the vane to rotate. Once the material level reaches the vane, thereby preventing further rotation, this creates a torque, which is converted via a switch to an electric signal. Once the vane is free again of the material, the output signal is reset and the motor driven shaft rotates again.
First rotating paddle limit switch with SIL2 worldwide
As part of the functional safety issue, the electronics of the rotating paddle series Rotonivo® RN 6000 have been redesigned. This has been configured so that any failure of electrical components lead to a safe switching state of the output signal and thus a hazard by the system is avoided.
With the innovative SIL2 compliant Rotonivo® RN 6000 series operators of safety-related systems have a sensor system in accordance with their specified safety integrity level and the perfect content level measurement component in their safety circuit. Despite it is the first rotating paddle limit switch with SIL2 worldwide!