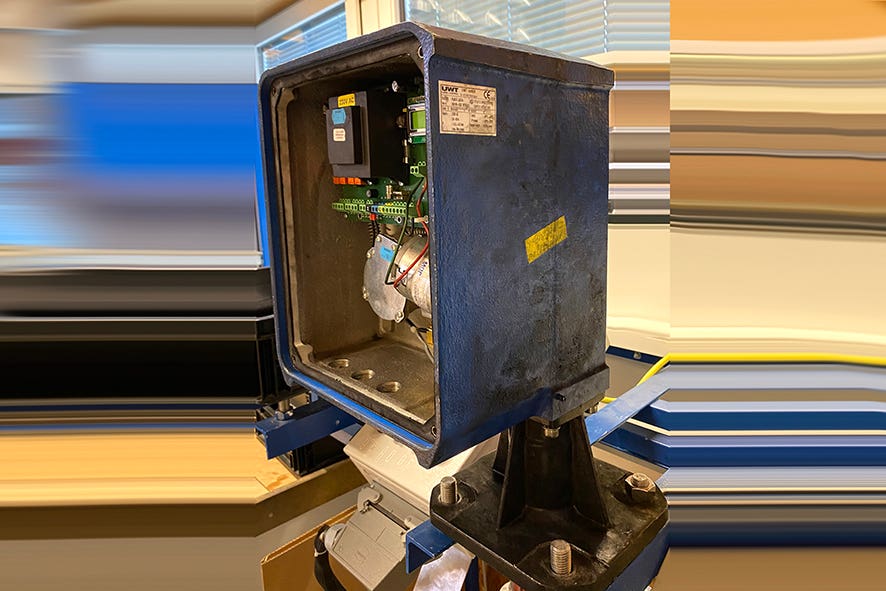 In industrial plants, the demands on the robustness of level sensors are very high, as they often come into contact with aggressive media or find themselves in a challenging process environment. Point level switches that are used to prevent overfill or as protection against idling, as well as continuous level sensors, must have a resistant design for a long service life. It is not uncommon for the costs for maintenance or replacement of the measurement technology to be very high, as the quality of the sensors installed in the process does not meet the requirements and they therefore fail early. Not so with the devices from UWT GmbH; The classic plumb bob and vibrating fork, for example, work completely maintenance-free for several decades in various demanding industrial applications.
Long-lasting sensor solutions: vibrating forks in use for up to 30 years, maintenance-free
For the operator of a closed, non-transparent silo system, independence means knowing the amount of material stored in it at all times. In this way, he can ensure that he orders supplies in good time and that supply or production bottlenecks are avoided. Independence also means using simple methods to measure the level or limit level in the silo. There is no question of independent manual measurement, which is usually time-consuming and also often inaccurate. Rather, uncomplicated measuring devices provide him with current data. For a system operator, independence also means not having to waste any further thought on the built-in measurement technology for recording the fill level or limit level.
True to the motto "Install and forget".
It is precisely such solutions that industrial plants need to be able to use with high-quality measurement technologies in order to make material processing processes run smoothly. Accordingly, the UWT team configured sensors for level detection for industry-typical applications at a manufacturer of yoghurt pots in Austria. The permanent measurement technology is certified in accordance with the standard for international approvals for areas at risk of gas and dust explosions. The plant operator stores plastic in his silos. The Vibranivo® VN 2000 fork was installed, which reliably and quickly detects the limit level within the silos - and has done so for over 30 years! In 1989 the company decided in favor of measuring devices from UWT GmbH. Since then, the overfill protection and the no-load protection have been reliable and maintenance-free. Vibranivo® vibrating forks with their stainless steel arms and high sensitivity are used in many process containers and storage silos as point level indicators for bulk solids detection. They are robust, easy to put into operation and can be configured precisely for the application using the various device series when selecting the sensor. They are particularly suitable for use in all fine-grained and powdery materials. They are also the optimal solution for very light bulk goods and with high mechanical loads. International approvals ensure smooth use in areas with a risk of gas and dust explosions and also in hygienic processes. The manufacturer of yoghurt pots remains loyal to UWT GmbH to this day. For many years now, plumb meters from the NivoBob® series and unshielded radar sensors have also been used to record the continuous fill level.
Uncompromising robustness with the tried and tested classic, everything in balance
The electromechanical lot systems are also among the particularly robust (G)oldies! Pilot sensors are used for continuous level measurement in storage silos and for interface measurement. The simple electromechanical measuring method is a classic in level monitoring and is suitable for almost all bulk goods, regardless of the DK value (dielectric constant). Thanks to a large selection of sensor weights, it is possible to react flexibly to different surface structures. In several silos for carbon black from a well-known tire manufacturer, the NivoBob® lot systems from UWT GmbH have been working smoothly and completely free of wear for more than 21 years. The level in the silos should be continuously monitored and transmitted with a short response time. The dust-intensive process atmosphere and the tendency of the material to be measured to have strong buildup are challenging here. In addition, the surface density of carbon black is very low. The NivoBob® NB 3200 provides a measurement result that you can always rely on. The feeler weight consists of a folding screen, which lies on the surface of the carbon black during the measurement. Neither heavy dust formation, caking nor the surface of the carbon black are a problem for the UWT bob.
The devices have been able to prove themselves consistently in this demanding application since they were installed in 2000 and did not come to normal wear repairs until 2021. After a normal brush-up, the device runs like it did on the first day - probably for the next 21 years!
In another application for continuous level detection, the lot has been in use in a cement works in Poland since 1989. In this industry application, too, the constant measurement technology detects solid measurement results under dusty, loud and particularly harsh conditions.