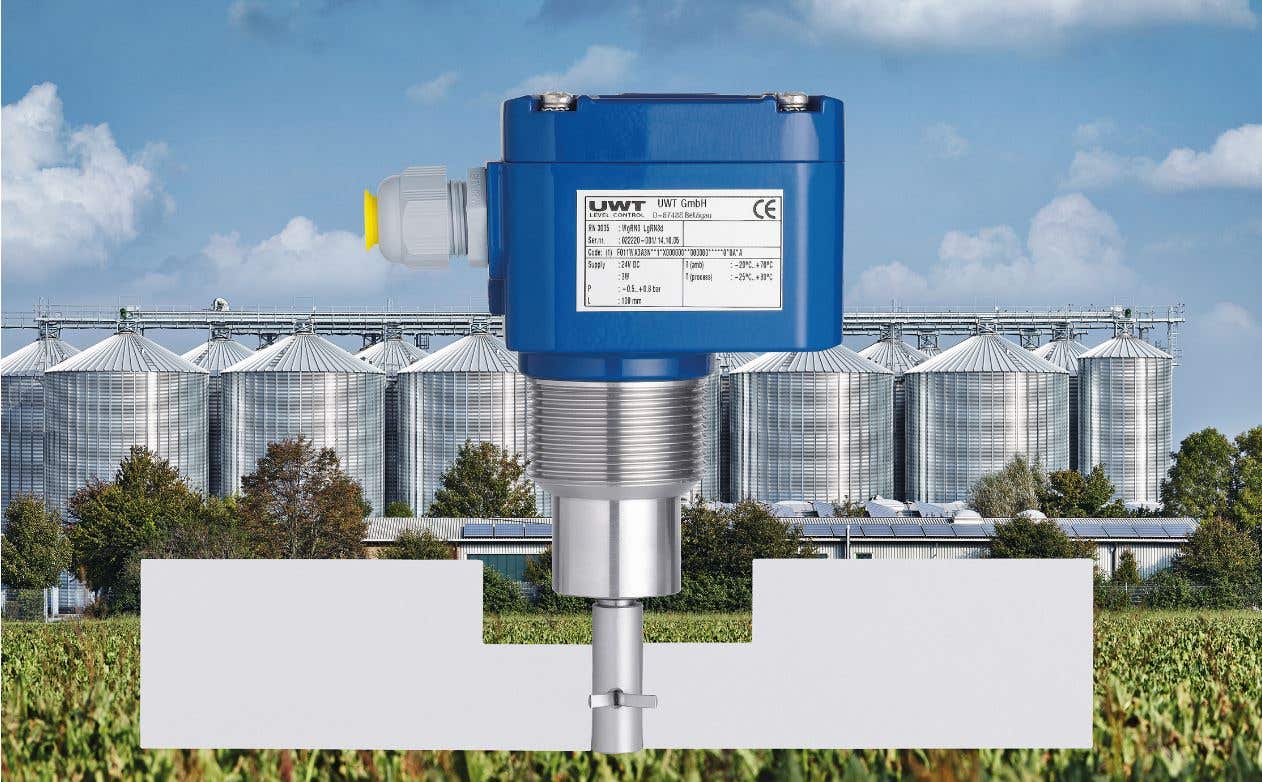 Modern solutions for efficient storage processes in grain, standing and flour silos

What can happen if plant engineers choose unsuitable measurement technology in their applications? In addition to overfilling of the silo or reduced productivity, production may even come to a halt. When choosing measurement sensor technology, plant operators should therefore always be careful to use high-quality and reliable system components in line with the changing challenges, depending on the process. The rotating paddle detector, which detects limit levels in silo containers according to the rotation principle, can be found in almost every grain processing plant.
Reliable solution for grain applications with the proven rotary level switch
Whether wheat, barley, rye, grain corn, semolina, haze, bran, meal, or oats - Bread cereals exist in today's diversity with around 200 officially approved cereal varieties. The question of a measuring principle that works reliably in versatile process conditions of the grain industry is always a challenge for engineers. The rotary paddle detector with its reliable electronics as well as robust design is frequently encountered in grain mills in various processes. For example, in a grain processing plant in France, Rotonivo® rotary limit switches are also chosen for material detection in several silos.
With them, UWT's sensor portfolio offers a solution for any requirement: be it high dust generation, tensile and leverage forces, caking, short response time, high process temperatures, electrical charging or fluctuating DK value.
The Rotonivo® rotating paddle detector from UWT is used as an overfill protection or as a demand and empty detector in process and storage vessels. Its high sensitivity, large mechanical load capacity and variety of booms make it an all-rounder in plants and allow it to be used without restrictions in the wide range of grain applications. Its simplicity in terms of installation and commissioning enables fast, trouble-free use worldwide.
Modern solutions for efficient storage processes in grain, standing and flour silos
When it comes to detecting fill levels in silos and material handling processes, sensors with a high degree of compatibility for different process containers provide optimum support for smooth operation. Depending on the processing stage, the material to be monitored can be of very different nature and place different demands on the measurement technology to be used. Storage processes are encountered several times during the entire manufacturing process. They run through the entire plant to store or temporarily store raw materials, intermediate products as well as end products and to transport them from one manufacturing stage to the next. Overfilling of the silos, production stops or reduced productivity are prevented here by suitable measuring sensors.
Rotonivo® rotating paddle detectors are used as full, demand or empty detectors in storage silos or process vessels, depending on the requirements. A motor-driven rotating measuring blade is inhibited in its rotary motion when covered with bulk material. A torque is generated which is converted into an electrical signal via a switch. If the bulk material no longer covers the measuring blade, the switch is reset to its initial position via a spring. The output signal is switched over again. With their simple electromechanical measuring principle, they can also be adapted to extreme process conditions.
The rotary level switch in storage silos for grain provides reliable overfill protection as well as pinpoint empty detection. At the same time, the Rotonivo® 3000 is flexibly adjustable and can easily detect changing media with different bulk weights. The choice of different, such as sleeve, hinged paddle or rubber device, means that individual alignment with the medium to be measured can be flexibly implemented. Even during filling, the measurement is not interrupted. The sensor technology of the rotating paddle is designed in such a way that it can implement a very fast reaction time of the overfill protection. The modern, high-quality technology thus ensures a continuous stress-free production process within the plant. Pressure ranges can be compensated from -0.9 to +10 bar (-13.1 to +145psi), and each Rotonivo® 3000 version can be configured with a flameproof design.
Inside the placement silos, the RN rotary detector is installed for reliable backlog detection. In this section, the grain stored in the silos is precisely metered and mixed, wetted, and thus prepared for the actual milling process. The conditioned grain is then made available for milling in the day or storage cells. Here, too, the equipment with measuring technology must provide a professional solution in terms of precision and process reliability to support a grain milling plant. Within this process stage, batch compensation is advantageous in order to ensure uninterrupted further processing with a high and stable quality, even with very sticky, floury-gristy or viscous material. In some cases, a moving bulk material surface also prevails here. The robust design of the rotary level switches with aluminum housing and all-voltage electronics avoids malfunctions caused by high temperatures, condensate, dust and caking. In the high temperature version of the RN 3000, process temperatures up to 1100°C are possible. For different switching points, the Rotonivo® offers flexible boom lengths ranging from very short versions, such as the RN 3005 with 90 mm, to extra long versions, such as the RN 3002 with rope extension, which measures distances up to 10 meters.
For overfill protection and empty detection in flour or grist silos, the rotary switch of the Rotonivo® series has an adjustable sensitivity to reliably detect even the finest powdery materials as well as to realize measurement in fluidized products. Despite dusty environments, the precision of the measurements is unrestricted because both the housing and the seals of the RN level switches are designed to be completely dust-tight. A practical feature is that installation can be vertical, horizontal or at an angle. Again, a quick response from the overfill prevention system is essential to ensure a smooth process flow. With international approvals, the detector is easily suitable for use in gas and dust explosion hazardous areas.